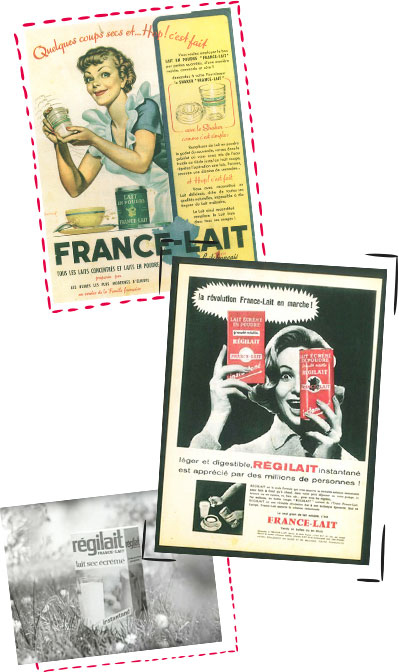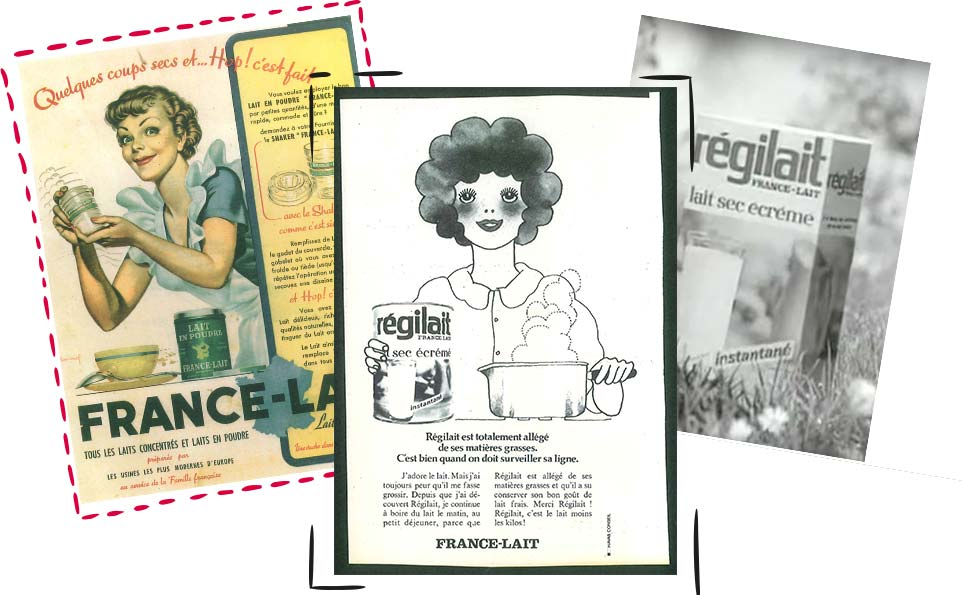 Our
history
We take great pride in our company, and would love to tell you the key details of its history. First of all, it's important to know that Régilait is a subsidiary of France's first two dairy cooperatives, SODIAAL and LAITA. It collects milk from 18,000 producers who are passionate about their land and their animals. It is this passion, this love, which makes it possible to obtain wonderful high-quality milk, for making great breakfasts and delicious recipes.
And of course, Régilait, is also known for its logo, advertisements and famous French rhyming jingle "Régilait Régilait, léger léger, au petit-déjeuner…" Catchy, right? This jingle is ingrained in the memories of several generations of French families.
Want to step back in time with us? Discover the key dates in the history of our brand, your brand!
Our company

and its activities
Régilait at the heart of France
We're located in Bourgogne, near Macon, at Saint-Martin-Belle-Roche to be precise (a pretty little village with just over 1000 residents). We're based by the banks of the river Saône, in a region with a great quality of life ☺.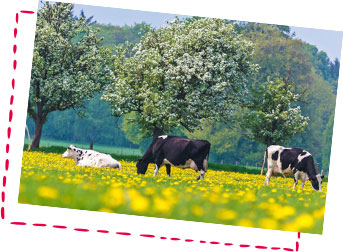 Our activities
We're proud to be the world leader in granulated powdered milk as well as the leader in France in sweetened condensed milk in tubes and unsweetened condensed milk in portion cups. We export our milk products for adults and our infant formula to over 60 countries worldwide. When travelling, you may come across us in a store in Lebanon, Cambodia or even Madagascar…
We also do significant business with professionals in vending machines, cafés, hotels and restaurants, and the medico-social sector. If you buy a coffee in a service station or eat a purée in a staff canteen, whether you realise it or not, it is likely to include a little bit of Régilait ☺

Powdered milk: our original product and our specialisation
Powdered milk is our traditional product, our baby. This surprising and very handy product has a very interesting history. Interesting because the milk that comes the cow's udder is not actually in powdered form, obviously! Quite simply, it's good liquid milk, collected from our producers' farms, from which the water has been extracted using a gentle manufacturing process which preserves all its nutritional qualities.
So what's left? What's left is the essential, the goodness of the milk. At Régilait, we refer to these little grains of milk (which differ in size depending on whether the milk is semi-skimmed, skimmed or full-fat), as milk nuggets.
Our cooperative status gives us a wonderful opportunity: to be able to oversee the entire path travelled by the milk, from the farm to the finished product. Because at Régilait, quality is our priority.
Régilait powdered milk is real milk, quality milk!
How is Régilait powdered milk produced?
At Régilait, we are truly committed
Discover our commitments here.