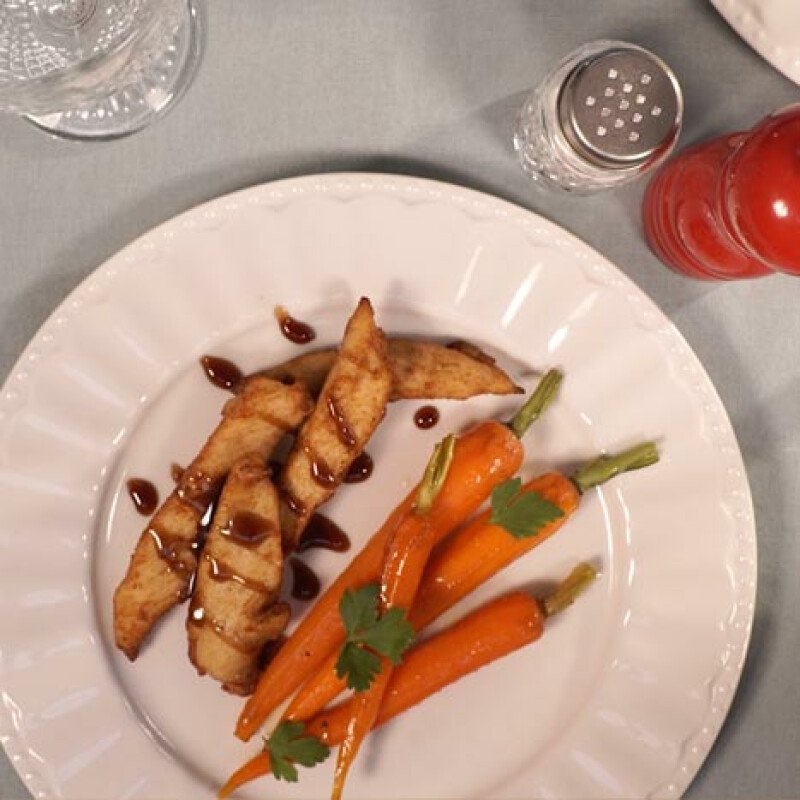 The ingredients
2 chicken breasts
4 tbsp of flour
6 tbsp of Régilait powdered milk
2 tbsp of olive oil
3 tbsp of balsamic vinegar
4 tbsp of honey
Glazed carrots
1 small bunch of baby carrots
30g of butter
2 tsp of sugar
A pinch of salt
Preparation
Prepare the glazed carrots
Rinse the carrots. Cut the carrot tops, leaving about 2cm of leaf, then peel them.
Arrange the carrots carefully in a frying pan. Divide the butter in small pieces over the carrots. Add a pinch of salt and sprinkle with sugar. Immerse completely in water. Cover.
Begin boiling at a high heat, then at a gentle heat for 25 minutes.
Remove the lid and finish cooking for 4-5 minutes until the water has completely evaporated.
Prepare the chicken fillets
Cut the chicken cutlets into fillets. Heat the olive oil in a large frying pan.
Mix the flour and Régilait powdered milk in a soup dish, then roll the chicken strips in it.
Fry the chicken strips at a medium heat for 5 minutes until nicely browned.
Add the balsamic vinegar and honey to the pan and reduce to obtain a fairly thick sauce. Serve the chicken strips with a drizzle of honey sauce and accompanied by baby carrots.