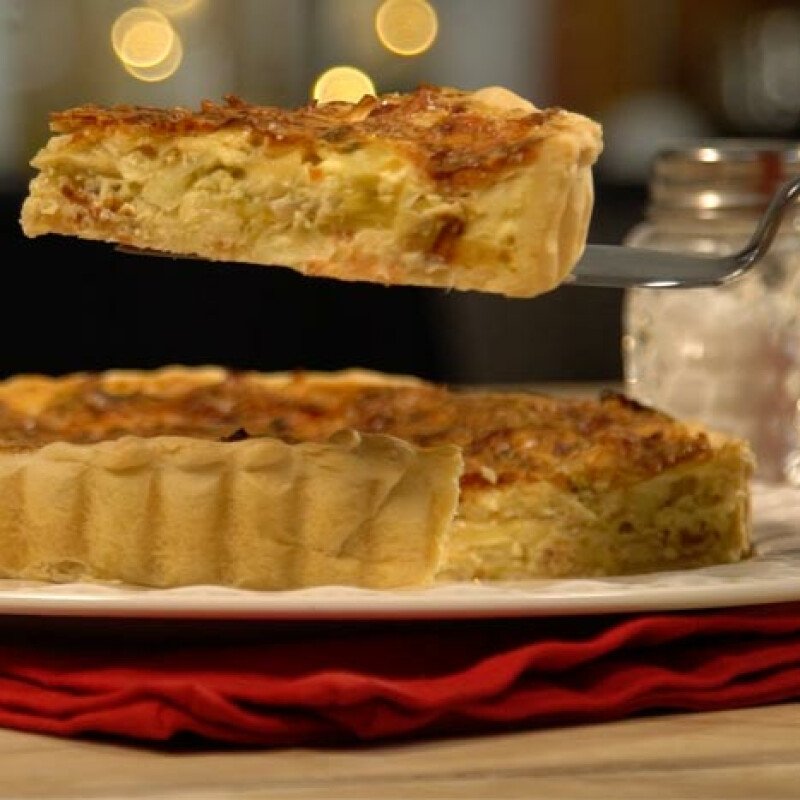 The ingredients
1 roll of shortcrust pastry
4 slices of smoked salmon
4 leek whites
3 eggs
25cl of single cream
6 tbsp of Régilait powdered milk
75g of grated Gruyère cheese
2 tbsp of finely chopped dill
A drizzle of olive oil
Salt and pepper to taste
Preparation
Prepare the garnish
Wash the leek whites, then chop them into fine pieces.
Heat the drizzle of olive oil in a non-stick frying pan at a medium heat.
Brown the finely sliced leeks at a low heat for about 15 minutes until they are tender and soft. Add a little water while cooking if they stick.
Meanwhile
Cut the slices of smoked salmon into thin strips.
In a container, beat the whole eggs with the single cream and 4 tablespoons of Régilait powdered milk, the finely chopped dill and the grated Gruyère cheese. Add salt and pepper according to taste.
Roll out the shortcrust pastry in the pie dish. Trim the excess pastry with a rolling pin.
When the leeks are cooked, remove the pan from the heat and set it aside to cool down. Then arrange them over the pastry base in the dish. Cover with the strips of smoked salmon, then the quiche preparation.
Place the quiche in the oven, preheated to 180°C, and cook it for 30 minutes until well browned. Remove the quiche from the oven and leave it to cool down for a few minutes before turning it out.