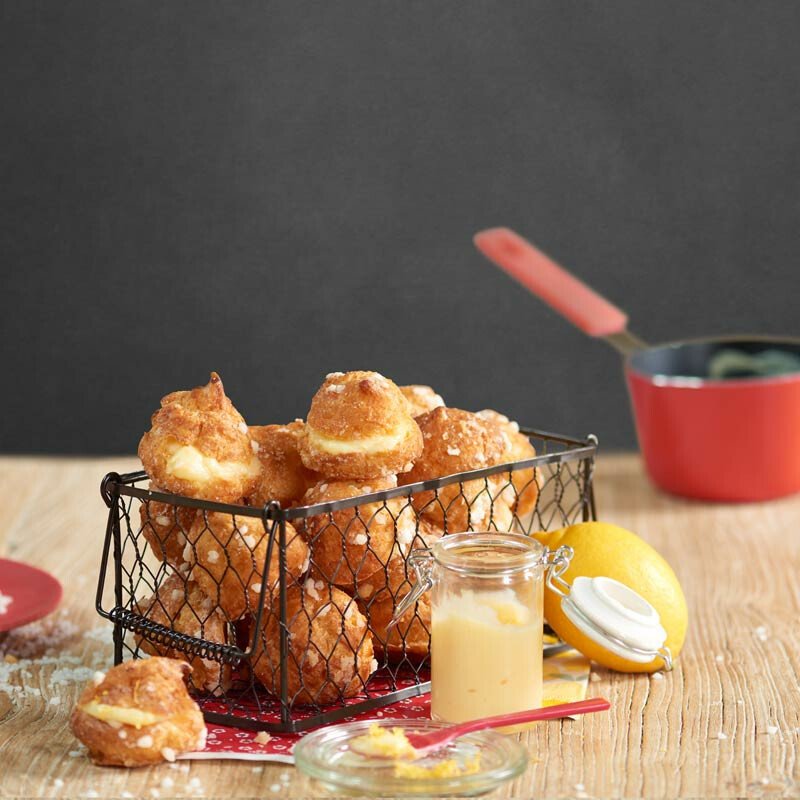 The ingredients
Choux pastry
250ml of water
3-4 tbsp of Régilait powdered milk
A pinch of fine salt
80g of butter
30g of caster sugar
A pinch of baking powder
150g of flour
3 or 4 eggs
2 tbsp of pearl sugar
Lemon cream
60g of Régilait powdered milk
Zest and juice of 2 lemons
4 eggs
160g of sugar
50g of flour
500ml of water
Preparation
Choux pastry
In a saucepan, bring the salt, caster sugar and butter to the boil. Mix the flour with the Régilait powdered milk and yeast. Pour the whole mixture into the saucepan in one go. Stir quickly away from the heat until the dough separates from the edge of the saucepan to form a ball.
Dry the dough over the flame while continuing to stir.
Remove from the heat and add the eggs one by one, stirring until completely absorbed into the dough. Prepare little balls with the piping bag on a buttered tray or a sheet of greaseproof paper. Add grains of pearl sugar over the pastries. Bake in the oven at 210°C for 20 to 25 minutes.
Once cooked, leave to cool.
Lemon cream
In a salad bowl, mix the sugar, flour and powdered milk.
Add the eggs and beat until firm. Add the lemon zest and juice. Pour the water into this preparation, bring to the boil and cook for 1 to 2 minutes.
Place in a container and leave to cool.
Assembly
Decorate the underside of the chouquettes with lemon cream using a piping bag.