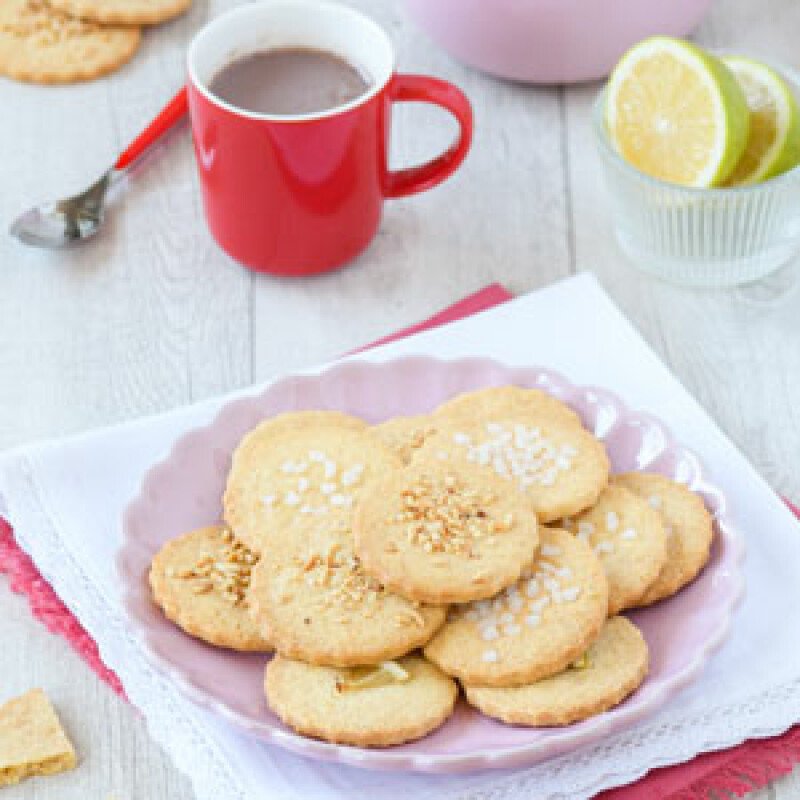 The ingredients
For around 30 biscuits:
200g of flour
40g of Régilait semi-skimmed powdered milk
110g of sugar
110g of tempered butter
1 egg
1 lemon
To decorate: pearl sugar, chopped hazelnuts or almonds, etc.
Preparation
Grate the zest of the lemon.
Place the flour, sugar, lemon zest and powdered milk in the bowl of a blender. Blend until well mixed. Add the butter cut into small pieces and blend until a sandy texture is obtained.
Add the egg and 1 tablespoon of lemon juice. Blend until a ball is formed. Add a little lemon juice if the dough is too dry. It should be supple.
Transfer onto a worktop. Knead the dough by hand two or three times to give it an even consistency. Wrap in cling film and place in the refrigerator for at least 2 hours.
Preheat the oven to 150°C.
Take the dough from the refrigerator. Wait for about 10 minutes until it has softened a little, then spread it out to a thickness of 3mm on a lightly floured worktop or between two sheets of baking paper.
Cut out the biscuits using a cookie cutter and arrange them on a tray lined with baking paper.
Stack the dough trimmings, and spread out once again. Repeat until all the dough has been used up.
Bake in the oven for 20 to 25 minutes depending on the size of the biscuits, until lightly browned.