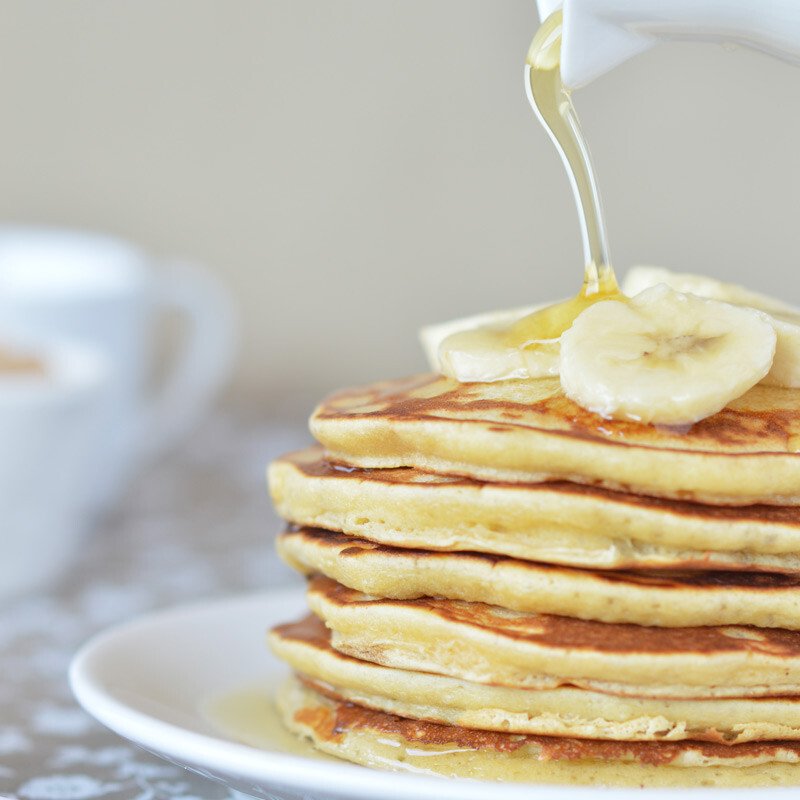 The ingredients
Pancake batter
65g of Régilait powdered milk
250g of flour
2 eggs
30g of caster sugar
A pinch of fine salt
500ml of water
40g of melted butter
Garnish
2 apples
1 banana
1 knob of salted butter
1 tube of Tartines & Desserts salted butter caramel
Sweet laces
Preparation
For your pancakes, blend the flour, sugar, salt and powdered milk in a salad bowl. Gradually pour in the water, stirring gently with a whisk. Next add the eggs, then the melted butter.
Fry the pancakes in a hot, well-buttered frying pan. Stack your pancakes as you cook them to keep them soft.
For the garnish, peel the apples and cut them into small cubes. Brown them with the salted butter in a hot frying pan. Add 1 large tablespoon of Tartines & Desserts salted butter caramel.
Peel the banana and cut it into large slices, then once again cut these in half. When the apples begin to caramelise, add the cubes of banana and brown for a few seconds (do not allow the pieces of banana to begin to melt).
Assemble the purses: Place one pancake on a plate. Add a good tablespoon of caramelised fruit to the middle. Drizzle with Tartines & Desserts salted butter caramel according to your taste.
Gather up the edges of the pancake to form a purse. Fold it gently between your fingers, then close it up with 3 interwoven sweet laces.