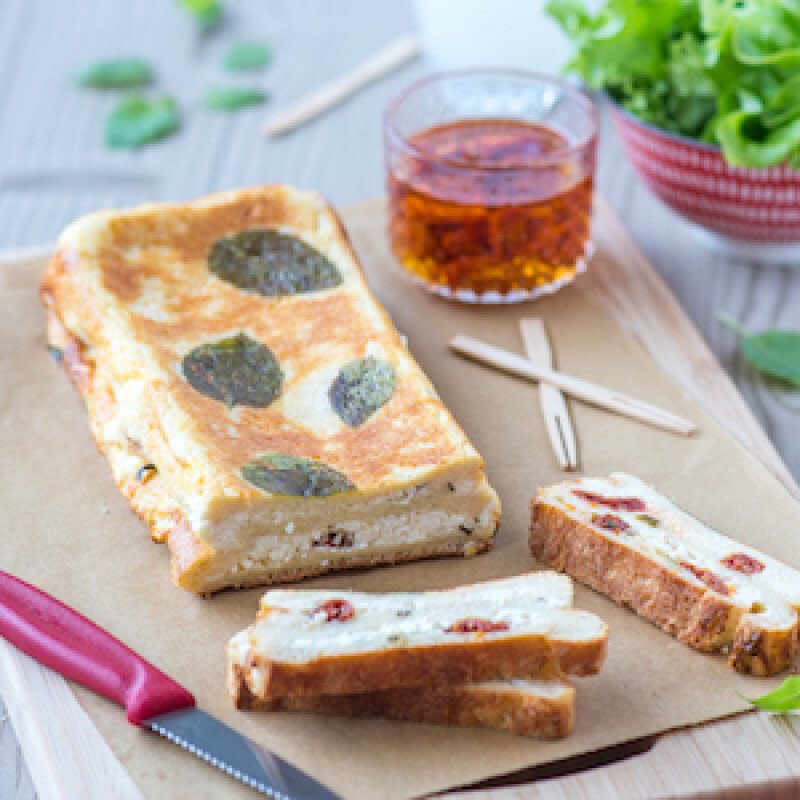 The ingredients
2 eggs
20cl of milk
20 slices of dried tomato
200g of Feta cheese
20 leaves of basil
4 tbsp of Régilait semi-skimmed powdered milk
9 slices of bread
Preparation
Preheat the oven to 180° C.
Blend the milk and eggs. Salt. Cut the crusts off the slices of bread. Butter the cake mould.
Arrange 5 or 6 basil leaves on the base. Place 3 slices of bread on top of them. Crumble half of the Feta and arrange it over the bread. Add half of the dried tomatoes and 6 finely chopped basil leaves. Sprinkle with 2 tablespoons of powdered milk. Pour in 1/3 of the egg/milk mix.
Repeat these steps once.
Finish by adding 3 slices of bread and the rest of the rest of the egg/milk mix. Pack down slightly.
Place in the oven for approx. 35 minutes. Leave to cool for about 15 minutes before turning out.